What's Turbocharger Test Rig
In the prime of time of development for ceramic turbocharger, our turbocharger test rig has formerly been quite popular facility for automobile manufacturers, turbocharger manufacturers, material suppliers and the related components manufacturers to evaluate aerodynamics performance survey, material characteristic and structural reliability, and the test rigs provided were still running on the site but it was being things of the past.
However, the recent trend of automobile industry recalled our turbocharger test rig for the needs for developing more efficient and functional turbocharger incl. motor assist turbocharger and its relative exhaust components in respect to emission regulation of diesel engines for European market and downsizing engine for specific gasoline engines. Our renewal turbocharger test rig has developed to fully respond to the new requirement, which is capable of achieving to full covered range of automobile from compact car to large scale track (or Formula 1 class). The test rig is just essential facility to develop or ensure your turbocharger, which is developing more complex and efficient by improvement of manufacturing technology (ex. casting) or new function (ex. variable nozzle vane).
Do not hesitate to contact us if it applies for shipbuilding turbocharger testing.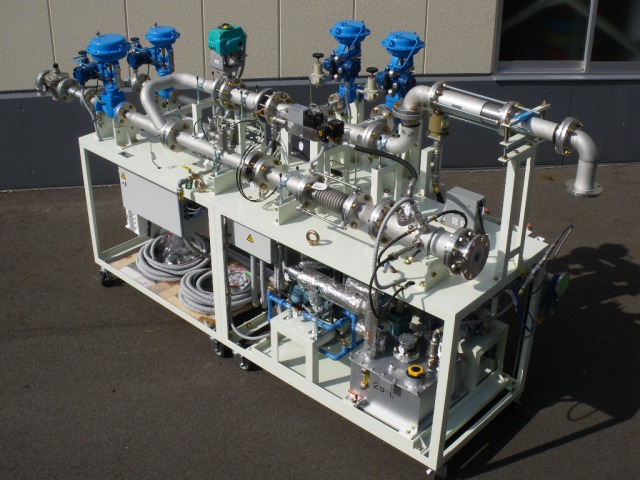 Concept Configuration of Turbocharger Test Rig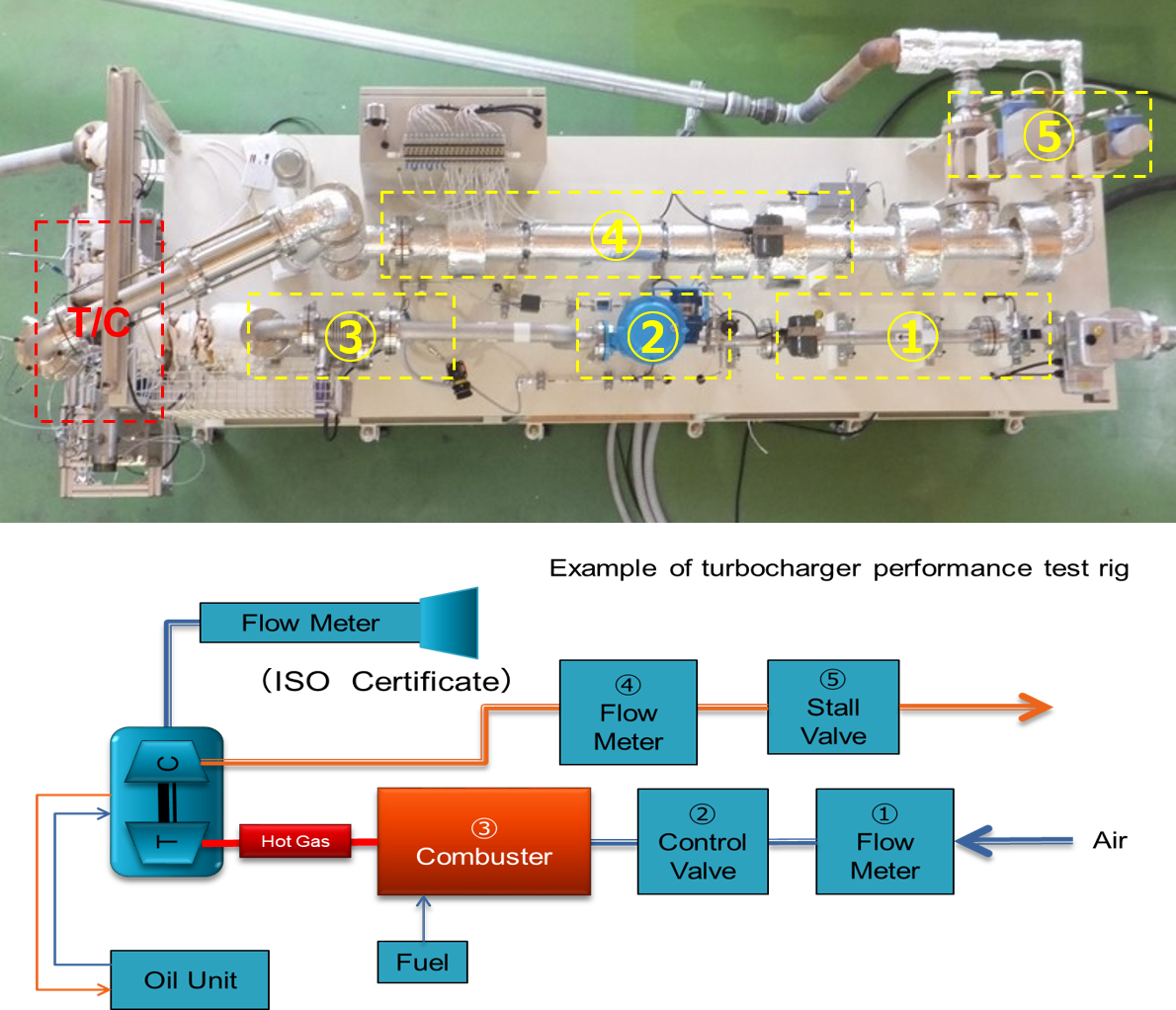 Past Production Examples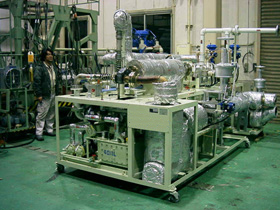 Turbocharger test rig with bypass flow
  
 ◇For reliability testing

  ・Low cycle fatigue for compressor wheel
  ・Thermal cycle fatigue for turbine volute
  ・Burst proof
  ・Friction of seal or bearing
 ◇Automatic control and data acquisition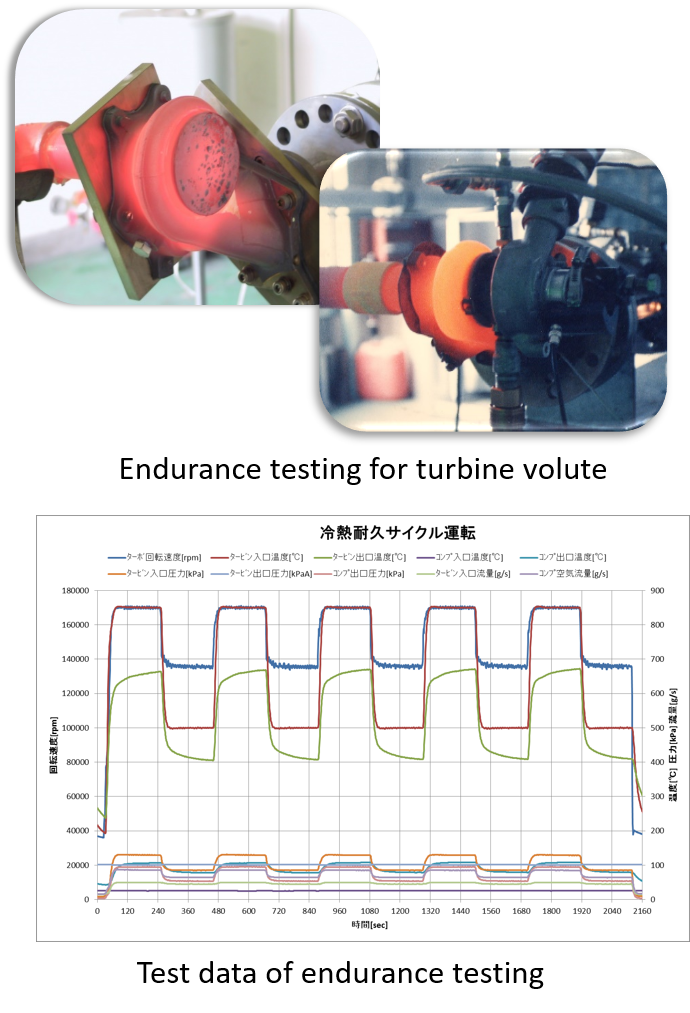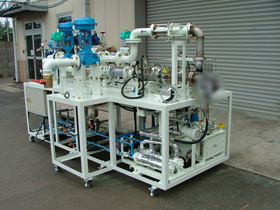 Turbocharger test rig with twin combustor
 
◇For performance evaluation testing

・Measurement of flow rate, pressure ratio,
adiabatic and mechanical efficiency for both compressor and turbine    
・Rotordynamics
・Measurement of bearing friction losses

◇Automatic control and data acquisition with automatic surge detection, automatic generation of performance map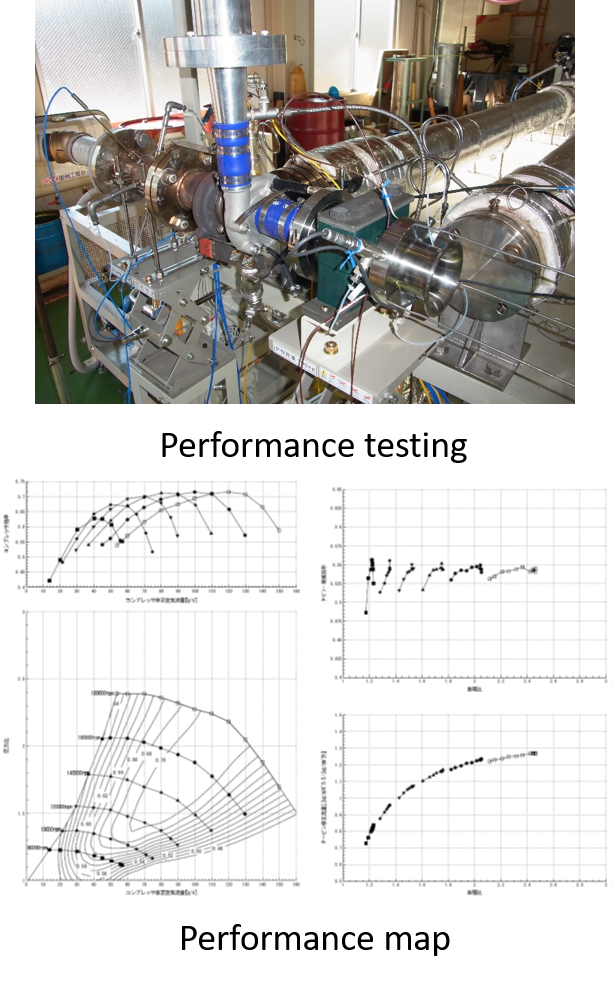 Control and Data Acquisition System of Turbocharger Test Rig
Visualized precise and reliable control system engaged by the recent high-end computer provides comfortable operation and steady safety protection. The required flow rate, temperature, pressure and speed can be accurately measured/acquired with surge detection and generation of performance map automatically.



 ◇Test sequence examples